List of The 7 Best Bridal Mehndi Artists In India
Mehandi holds a lot of social importance in Indian culture, be it weddings, Karva Chauth, or different events, Mehandi assumes a significant part in the whole functions and celebrations of India. Mehandi is not just an event but it is an emotion for Indians and with modernization, new styles of mehndi plans are coming up, adding glamour and joy to it.
Wedding is considered as one of the most important ceremony of one's life,  and among the ceremonies of this important day mehndi has become a major part of the decoration for the to-be bride along with candid wedding photography.
We give a lot of significance to Mehendi that there is an entire occasion during wedding festivities committed to it, and it is thought about as a 'shagun'. It means the symbol and love between the couple and their families.
Applying Mehendi on the hands is viewed as a custom before a wedding that gives the feeling of happiness. During the occasion of Mehendi, there are a couple of mehndi artists who are committed to the bride. While there are numerous different specialists who apply henna on the hands of different females present at the occasion giving joy to everybody present there.
It is believed that if the color of the mehndi is dark then the bride is considered to be lucky as she will receive more love from her family. During the Mehendi occasion, the air is loaded up with happiness and giggling. Everything appears to be extremely joyful bringing happiness in everyone's life.
Best Mehndi Artist In Jaipur
1. Ganesh Mehndi Arts
Ganesh mehendi arts is amazing, their work is very detailed and designs are awesome. the color of the mehendi develops over time and my mehendi was perfectly dark for my wedding.
Phone: 098282 37949
Address: Shop No 70, Johari Bazar, near Bank of India, Jaipur, Rajasthan 302003
Best Mehndi Artist in Chandigarh
2. Roshan Mehndi Artist
A Professional Mehandi Artist with the conducting advance course of Mehandi..We make Bridal, Portrait,Traditional,Occasional,Regional,Ziradozi and many types of Mehandi according to your choice. We book Mehandi from all over India and also promise their 100% satisfaction.
Phone: 076967 49818
Address: Shop No, 320, Himalaya Marg, 44D, Sector 50D, Chandigarh, 160047
Best Mehndi Artist in Delhi
3. Raju Mehndi Artist
Raju Mehndi Wala was the artist. He will came on time and was very professional. The mehndi was light in colour though the designs were really good. Overall it was a good experience. It was really unique Designs & Tattoos.
Phone: 088604 05300
Address: 17/4, Main Market Marg, Block 15, Press Colony, Tilak Nagar, Delhi, 110018
4. Kundan Mehndi Art
Kundan is the most talented, friendly and cooperative person ever! Very professional and very good. I really liked the work he did. I choose in my life for engagement and wedding, He became like a close friend to me"On time service, great quality mehedi, well trained and well mannered artists, great detail in the design. The quality of the raw material is wonderful, no artificial colours used which is quite rare.
Address: C 155, near Mata Mandir, Block C, Vishal Enclave, Tagore Garden Extension, New Delhi, Delhi 110027
Best Mehndi Artist in Hyderabad
5. Arjun Mehndi Artist
The designs are very good and they apply those designes whichever we want and the cones are also very good. Very talented artists & excellent designs & on time work.
Designed offered:
Traditional Mehendi
Bridal Mehendi
Arabic Mehendi
Modern Mehendi
Phone: 070953 55723
Address: Bikaner Sweet Opposite Food Bazaar Nalgonda Lingampally Hyderabad 7095 355 723, Hyderabad, Telangana 500019
Best Mehndi Artist in Mumbai
6. Deepa's Mehndi Artist
You booked Deepa Mam for your bridal mehendi, also for other family members too… I really loved her work Deepa Mam seriously the mehendi designs were so amazing and with a so much detailing work. And most importantly it was completely in such a short time that you are not feeling tired even.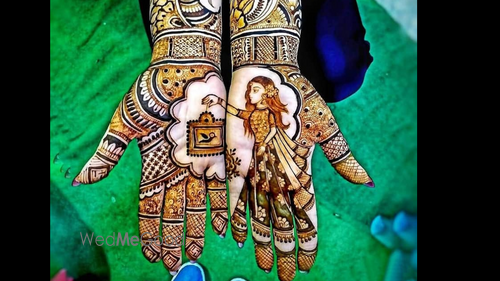 Phone: 098202 22241
Address: A/9, Jeevan Sudha, Barfiwala Road, Zalawad Nagar, Andheri West, Mumbai, Maharashtra 400058
Best Mehndi Artist in Kerala
7. Shabnam Mehndi Artist
If you are delighted by her profile, be sure to give her the privilege of doing your bridal mehendi on the day you will remember forever! Designs Offered: Mughal Arabic Traditional Lotus Floral Mandala Raja Rani & the design was very intricate and Shabnam had so much patience to finish it.
Phone: 094476 44947
Address: NGO Quarters, Mythiripuram, Kakkanad, Kerala 682021